ns3::rapidnet::Database Class Reference
[RapidNet Library]
More...
#include <database.h>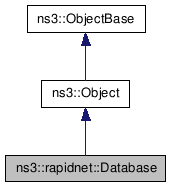 [legend]

[legend]
---
Detailed Description
It is implemented as a map of
See also:

Relation objects keyed by their name. The database Object is associated with one

RapidNetApplicationBase Object to which it belongs.
---
Member Function Documentation
Returns the associated.
See also:

RapidNet application Object.
| | | | | |
| --- | --- | --- | --- | --- |
| virtual TypeId ns3::rapidnet::Database::GetInstanceTypeId | ( | | ) | [inline, virtual] |
| | | | | | |
| --- | --- | --- | --- | --- | --- |
| static TypeId ns3::rapidnet::Database::GetTypeId | ( | void | | ) | [static] |
---
The documentation for this class was generated from the following file: