ns3::Scheduler Class Reference
[Scheduler]
Maintain the event list.
More...
#include <scheduler.h>

[legend]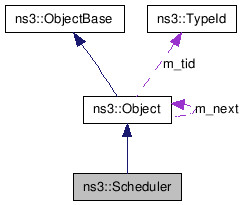 [legend]
---
Detailed Description
Maintain the event list.
This base class specifies the interface used to maintain the event list. If you want to provide a new event list scheduler, you need to create a subclass of this base class and implement all the pure virtual methods defined here.
The only tricky aspect of this API is the memory management of the EventImpl pointer which is a member of the Event data structure. The lifetime of this pointer is assumed to always be longer than the lifetime of the Scheduler class which means that the caller is responsible for ensuring that this invariant holds through calling EventImpl::Ref and EventImpl::Unref at the right time. Typically, Ref is called before Insert and Unref is called after a call to one of the Remove methods.
---
Member Function Documentation
| | | | | | |
| --- | --- | --- | --- | --- | --- |
| static TypeId ns3::Scheduler::GetTypeId | ( | void | | ) | [static] |
| | | | | | |
| --- | --- | --- | --- | --- | --- |
| virtual void ns3::Scheduler::Insert | ( | const Event & | ev | ) | [pure virtual] |
| | | | | | |
| --- | --- | --- | --- | --- | --- |
| virtual bool ns3::Scheduler::IsEmpty | ( | void | | ) | const [pure virtual] |
| | | | | | |
| --- | --- | --- | --- | --- | --- |
| virtual Event ns3::Scheduler::PeekNext | ( | void | | ) | const [pure virtual] |
| | | | | | |
| --- | --- | --- | --- | --- | --- |
| virtual void ns3::Scheduler::Remove | ( | const Event & | ev | ) | [pure virtual] |
| | | | | | |
| --- | --- | --- | --- | --- | --- |
| virtual Event ns3::Scheduler::RemoveNext | ( | void | | ) | [pure virtual] |
---
The documentation for this class was generated from the following files:
src/simulator/scheduler.h
doc/introspected-doxygen.h