ns3::IdealWifiManager Class Reference
Ideal rate control algorithm.
More...
#include <ideal-wifi-manager.h>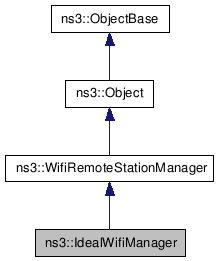 [legend]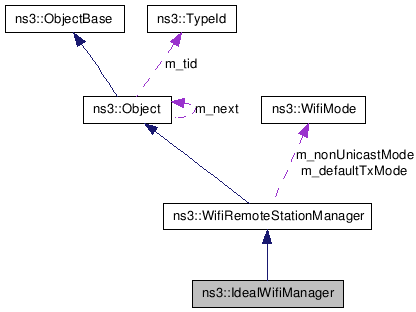 [legend]
---
Detailed Description
Ideal rate control algorithm.
This class implements an 'ideal' rate control algorithm similar to RBAR in spirit (see A rate-adaptive MAC protocol for multihop wireless networks by G. Holland, N. Vaidya, and P. Bahl.): every station keeps track of the snr of every packet received and sends back this snr to the original transmitter by an out-of-band mechanism. Each transmitter keeps track of the last snr sent back by a receiver and uses it to pick a transmission mode based on a set of snr thresholds built from a target ber and transmission mode-specific snr/ber curves.
---
Member Function Documentation
| | | | | | |
| --- | --- | --- | --- | --- | --- |
| static TypeId ns3::IdealWifiManager::GetTypeId | ( | void | | ) | [static] |
---
The documentation for this class was generated from the following files:
src/devices/wifi/ideal-wifi-manager.h
doc/introspected-doxygen.h