ns3::AarfcdWifiManager Class Reference
an implementation of the AARF-CD algorithm
More...
#include <aarfcd-wifi-manager.h>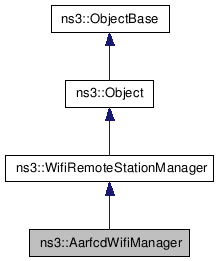 [legend]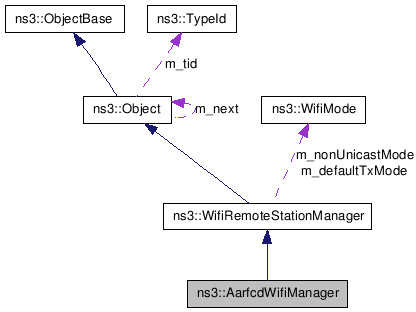 [legend]
---
Detailed Description
an implementation of the AARF-CD algorithm
This algorithm was first described in "Efficient Collision Detection for Auto Rate Fallback Algorithm". The implementation available here was done by Federico Maguolo for a very early development version of ns-3. Federico died before merging this work in ns-3 itself so his code was ported to ns-3 later without his supervision.
---
Member Function Documentation
| | | | | | |
| --- | --- | --- | --- | --- | --- |
| static TypeId ns3::AarfcdWifiManager::GetTypeId | ( | void | | ) | [static] |
---
The documentation for this class was generated from the following files:
src/devices/wifi/aarfcd-wifi-manager.h
doc/introspected-doxygen.h