ns3::TcpSocket Class Reference
[Socket]
(abstract) base class of all TcpSockets
More...
#include <tcp-socket.h>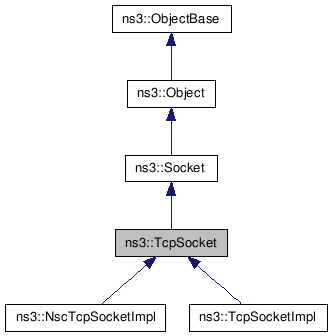 [legend]

[legend]
---
Detailed Description
(abstract) base class of all TcpSockets
This class exists solely for hosting TcpSocket attributes that can be reused across different implementations.
---
Member Function Documentation
| | | | | | |
| --- | --- | --- | --- | --- | --- |
| static TypeId ns3::TcpSocket::GetTypeId | ( | void | | ) | [static] |
This method returns the TypeId associated to ns3::TcpSocket.
Attributes defined for this type:

SndBufSize: TcpSocket maximum transmit buffer size (bytes)
RcvBufSize: TcpSocket maximum receive buffer size (bytes)
SegmentSize: TCP maximum segment size in bytes (may be adjusted based on MTU discovery)
SlowStartThreshold: TCP slow start threshold (bytes)
InitialCwnd: TCP initial congestion window size (segments)
ConnTimeout: TCP retransmission timeout when opening connection (seconds)
ConnCount: Number of connection attempts (SYN retransmissions) before returning failure
DelAckTimeout: Timeout value for TCP delayed acks, in seconds
DelAckCount: Number of packets to wait before sending a TCP ack
No TraceSources defined for this type.
Reimplemented from ns3::Object.
Reimplemented in ns3::NscTcpSocketImpl, and ns3::TcpSocketImpl.
---
The documentation for this class was generated from the following files:
src/node/tcp-socket.h
doc/introspected-doxygen.h